First United Methodist continues in the rich tradition of Methodism that began in Henderson in 1805. It was in that year that a small group of Christians formed a Methodist Society, dedicated to the worship of God in the manner of John Wesley — a methodical and reverent form of worship coupled with a virtuous manner of personal conduct.
For a time, Methodists and other congregations worshipped in the Union Church that was located in Central Park.
About two decades later, this Methodist Society had grown into a full-fledged congregation, housed in a new frame building at the corner of Washington and Elm streets. These men and women conducted themselves by a strict moral code and standard of personal conduct, and a result, the church roll continued to grow.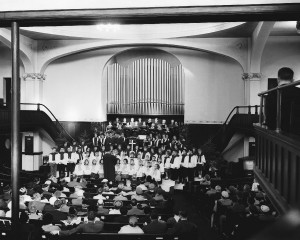 First United Methodist has been growing and building ever since. Over the next three decades, the growing congregation outgrew the small frame church and erected a new building at our present location at Third and Green streets. That structure, dedicated in 1860, would serve as a sanctuary through the troubled years of the Civil War and a place of ministry and healing after the war ended. That building came to its demise with the cyclone of 1914, forcing the congregation to erect yet another building, our current sanctuary.
This building served its members as both sanctuary and educational building until 1957, when an additional educational building was erected adjacent to the sanctuary. An extensive remodeling in 1967 gave the sanctuary a new look.
In 1997, the church was building again. This time the building included a Gathering Area with a portico entrance, new office area and a new Youth wing.
This pattern of growing and building reflects the progress of First Methodist's congregation throughout our history in the community. Over the years, our church members have recognized of the community for ministry and service to others. It is these needs that keep First United Methodist in constant contact with others, providing assistance and guidance for a multitude of concerns, be they material or spiritual in nature. Our members are in ministry within our walls, within our community and, indeed, within our world.
In 2005, we celebrated the 200th anniversary of Methodist worship in Henderson.
In 2014, a significant plaster collapse prompted the immediate closing of the Sanctuary and spawned an eighteen month process to evaluate the building and identify possible courses of action.  In December 2015, the First UMC congregation returned their beloved Sanctuary home after a comprehensive remodel.  Additionally, the Fellowship Hall underwent a complete redesign and renovation.
At First Methodist, we also celebrate our particular congregation's long heritage in Henderson, celebrated with the Mourning Doves statue dedicated on the Third Street side of the church as well as an historical marker that summarizes the history of our worship of our Heavenly Father and our Savior, Jesus Christ.